October 26th, 2007 by eden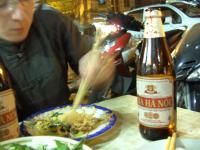 From the first minute we were overwhelmed with impressions of the Vietnamese lifestyle and the chaos in the streets of Hanoi. How to organise from Zero our Viet Nam Eden-installation within four weeks? Hanoi – a city where we don't know anybody, Vietnam – a country with such a different culture, language, political system… Read on to see how it all came out…
We arrived on the 12.10.07 in Hanoi, Vietnam, with some email- contacts and two phone-numbers in our backpack – and for this time with some scepsisism if we will be as lucky as we were in Brazil to organize our project. Four weeks to research about GMO in Vietnam, establish contacts with scientists, policymakers, artists, curators of museums, find a place to realize our installation, develop our work and finally do it – in a country that we don't know at all, with a different political system than we know and a language we are not able to speak at all… This country is so vivid, everybody seems to be on the move, the streets are full of motorbikes driving in every direction and it is hard to see any rules except the awareness of each other. We love it!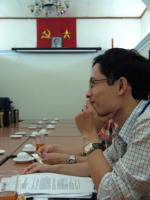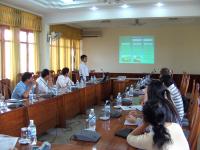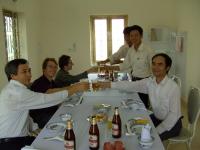 (Meetings with the Vietnam Environmental Protection Agency VEPA, Ministry of Natural Ressources and Environment; Visit at the Food Crop Research Institute, Ministry of Agriculture and Rural Development)
Swiss Artists out of the lab!
The day after our arrival and heavily jetlagged we start organising. We contact our main scientist who works together in the GMO-Guidelines-project with our university ETHZ, the general director of the Food Crops Research Institute (FCRI, part of the Ministry of Agriculture and Rural Development MARD). Mister Van Tuat, the institute-director, helpes us to arrange meetings with other scientists and policy-makers in the field of GMO in Vietnam. In a short time we meet the director of the main governmental Agricultural Biotech Program from MARD, representatives from the Vietnam Environmental Protection Agency (VEPA), director and scientists from Food Crops Research Institute (FCRI) and the Plant Protection Research Institute (PPRI) and the director of the Agricultural University of Hanoi (HAU). Read the blog about GMO and the official GE-strategy in Vietnam.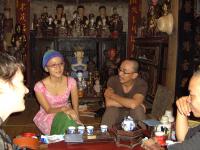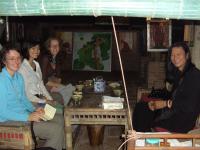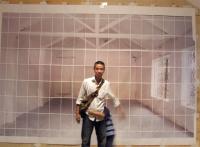 (Visit at Nguyen Manh Duc's NHA SAN-artstudio, Dao Anh Khanh's private performance-living space and Phuoc's RYLLEGA experimental art gallery)
The Hanoi contemporary art-scene is young and growing fast. The young artists are very keen on exchanging ideas with foreign artists. In no time we meet many young artists, pioneer curators for experimental art as well as the few established modern art institutions, i.e. Mr. Tran Luong (independent international curator), Mr. Nguyen Manh Duc (Nhasan-Artspace), Mr. Phuoc from the experimental Ryllega-Gallery, Mr. Dao Anh Khan (performance-pioneer and independent organisator), the Hanoi Goethe-Institute, l'Espace Centre Culturel Francais, ArtVietnam-Gallery and many amazing artists working in experimental installation, painting, sculpture and performance. What a change during the last 15 years – and the best for us: we found a place for our exhibition – at Duc's great NHA SAN-artspace! Read the blog with the invitation to our Vernissage.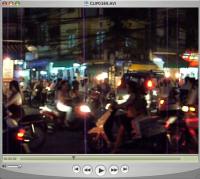 Life beside work
Our first impression of Vietnam: motorbike traffic! !! The streets and the business-and-living rooms are vibrating with life. There is no segregation between work, living, generations, traffic, eating. Everything meshes. The trees on the street have many functions at once, too. There are some who seem just to be used as a shelf, some which seem to be tree- but with a closer look, they surprisingly emerge as power cable mast.
Food adventure
We are going to discover another important part of the Vietnamese life: THE FOOD
This is really an experience we don't want to miss! Eating in the improvised kitchens on the streets, the super small plastic-stools, all the unknown food encrypted in strange neon written letters… we want to try all of it. Until now we discover the snake as very tasty, snails, frogs, all kinds of seafruits, vegetables and the traditional phò bò (soup). Maybe the periods of war and hunger made the Vietnamese to be very creative when it comes to food.
Food and eating is very important for the Vietnamese. A way to celebrate life – don't forget to use the toothpick after meal!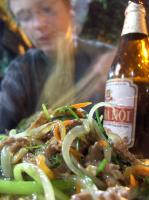 Karaoke-mania
No party without Karaoke! After a couple of beers in some bars you cruise around the town on motorbikes and for sure you will end up in a separated room in a Karaoke-club. There you sing to more than romantic music-clips from deep of your soul and cry out your heart. You finish this concert with an early bowl of noodle-soup from the street before going home to sleep. So did we…

Hand out business cards like confetti!
Vietnamese people have a special relation to business cards. The exchange of cards is a holy ritual. Therefore we quickly made our own Regrowing Eden-artbusiness cards!
We use them like confetti…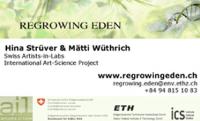 Posted in blog, Vietnam |

Comments Off on Riding the Dragon: Vietnamese lifestyle – organising our art