September 1st, 2007 by eden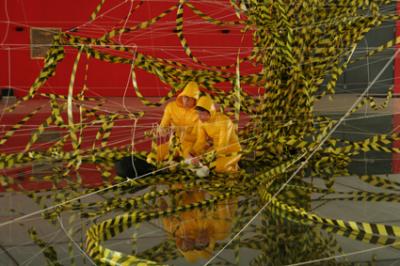 (texto portugues em baixo)
Our installation "transgênicos" grew in four performative interventions. With our artificial "genetically modified organism" we tried to reflect our impression of the political and social discourse on GE/GMO in Brazil. Our Eden no Brasil was shown at the Museum Oscar Niemeyer in Curitiba, Paranà, from August 11th for one week. (Fotos: Juliana Burigo ©regrowingeden).
Posted in Brazil, installation, performance, TRANSGÊNICOS |

Comments Off on "transgênicos": pics from our installation & performances