September 1st, 2007 by eden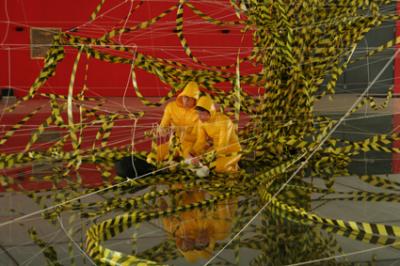 (texto portugues em baixo)
Our installation "transgênicos" grew in four performative interventions. With our artificial "genetically modified organism" we tried to reflect our impression of the political and social discourse on GE/GMO in Brazil. Our Eden no Brasil was shown at the Museum Oscar Niemeyer in Curitiba, Paranà, from August 11th for one week. (Fotos: Juliana Burigo ©regrowingeden).
We have realised our live-installation from 11.8.2007 to 20.8.2007! We made four Performances (scroll down to see pics and descriptions of each performance):
1. performance: 3d-sketch of transgênicos
Saturday, 11.8.2007. In our opening-performance we let the GMO-plant grow within a fine structure of strings. This structure is knotted between four construction props and forms a matrix for the plant to grow. The clearness and order of this string-structure takes up in an abstract way the technical aspects of gen-technology, the intention/wish for clean, well-designed solutions. The construction props may be associated with the construction site of genetic engineering With black-yellow-striped plastic tape we make a three dimensional sketch of an organic structure – our GMO-plant grows within the designed matrix and technical structure which is more and more distorted. The black-yellow plastic tape, of which we made the plant, is widely used as barrier tape throughout Brazil. We use this artificial material to create transgenic organic growth. Our performance-installation resembles a three dimensional sketch of a growing, genetically modified plant.
_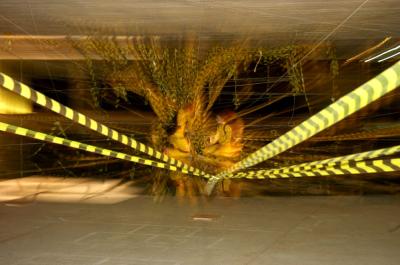 (invasive sculpture)
_
2. Performance: Invasive sculpture
(Sunday, 12.8.07). We continue working on our plant. There is a change in structure, density and intensity – invasive growth is starting. Through this performance, the fine plant-sketch transforms into a powerful sculpture – transgenicos is becoming almighty. Its growth overcomes the structure. With a deflection technique with strings and stones as counterweight, transgênicos is "shooting" out of the controlled perimeter. The stones fall onto ceramic tiles. The tiles break into pieces with a bang, similar to the spreading of seeds.
3. performance: political discourse – the eye of curitiba
(Tuesday morning, 14.8.07). We integrate our impression of the political discourse on GMO within Brazil in our installation (read about the political situation and the strategic/symbolic port of Parana where the government tries to maintain segregating of GMO from Non-GMO food streams). We pull a green tape through the body of transgênicos and a eye-shaped hole opens in the middle of the plant –the watching eye of Curitiba. It is a reminder to take care and to develop sustainable perspectives. Sustainability in agriculture, equal distribution of benefits from gen-technology and resistance to corporate power are arguments, that people were telling us often when asked about their opinion on GE in Brazil.
The performance took place after a skill share meeting of the Parana state government. So it was seen by 200 Paranà-state officials, inclusive the governor of Parana state, Roberto Requião, who invited us for lunch afterwards…
_
4. performance: risk assessment
(Tuesday evening, 14.8.2007). Our finissage with an invited art-audience and friends. Once again, our gmo-plant is growing. Powerful, invasive, beautiful and dangerous, alluring and unpredictable. With a light installation and the use of red plastic films we reflect the outcomes of the Eliza-Test, with which toxic effects of GMO on non-target organisms can be measured (through light-absorption). Already used in our installation in Switzerland, the red plastic films may reflect the need for international exchange of knowledge and risk assessment methodologies. ETH was running capacitiy building workshops in Brazil – as their Swiss colleagues, the Brazilian scientists community is quite clear, that GMO-risks should be assessed properly PRIOR to any commercial release of GMO – political practise is in sharp contrast to the scientific demand.
_
_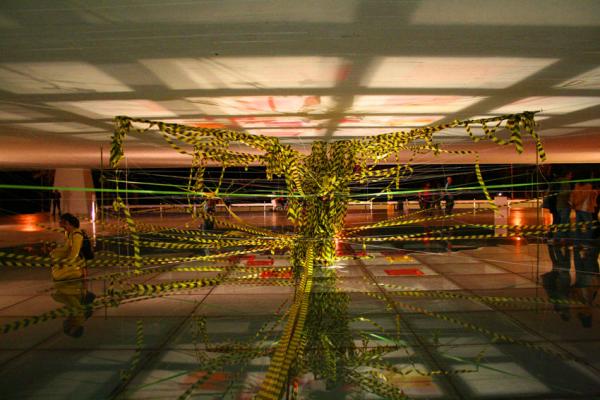 —
Artistas suíços realizam performance sobre transgênicos…
Com uma intervenção viva (performance) no Museu Oscar Niemeyer, os artistas suíços Hina Struver e Matti Wuthrich irão construir uma estrutura tridimensional de planta com o título "transgênicos". Está planta artificial, que usa materiais como plástico e cordas, terá as características de um organismo geneticamente modificado. A planta GMO irá crescer e se espalhar invasivamente durante os dias seguintes. Na instalação de arte "transgênicos" os artistas demonstram os riscos dos produtos geneticamente modificados e sua influência junto a sociedade.
A instalação artística é dividida em três partes:
A performance de abertura acontecerá no sábado, 11.8.07 às 15 horas. Ela mostrará a estrutura e o crescimento da planta geneticamente modificada.
O segundo ato/performance será realizado no domingo, às 15 horas destacando a expansão e a avaliação científica dos riscos dos transgênicos.
A terceira performance terá lugar na terça, às 19 horas, registrando as impressões que os artistas tiveram sobre discurso político e social no Brasil sobre o tema transgênicos e sobre a repercussão da instalação.
A instalação no museu Oscar Niemeyer é parte de um projeto internacional artístico que Hina Struver e Matti Wuthrich irão desenvolver sobre os riscos dos transgênicos no Brasil, Suíça e Vietnam.
No site www.regrowingeden.ch há um questionário didático sobre GMOs – as respostas serão transformadas imediatamente em uma figura artística ou uma planta virtual. Depois, os artistas irão criar um "Jardim do Eden virtual" de cada país.

Posted in Brazil, installation, performance, TRANSGÊNICOS |

Comments Off on "transgênicos": pics from our installation & performances