September 27th, 2007 by eden
Posted in Brazil, media |

Comments Off on TV & Press Brasil about Transgênicos
September 1st, 2007 by eden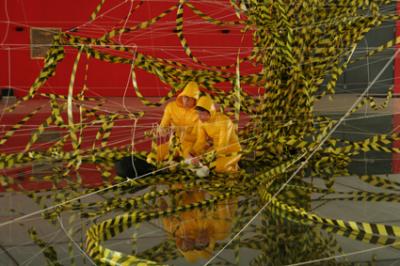 (texto portugues em baixo)
Our installation "transgênicos" grew in four performative interventions. With our artificial "genetically modified organism" we tried to reflect our impression of the political and social discourse on GE/GMO in Brazil. Our Eden no Brasil was shown at the Museum Oscar Niemeyer in Curitiba, Paranà, from August 11th for one week. (Fotos: Juliana Burigo ©regrowingeden).
Posted in Brazil, installation, performance, TRANSGÊNICOS |

Comments Off on "transgênicos": pics from our installation & performances
September 1st, 2007 by eden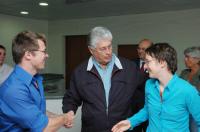 (After our performance Roberto Requião, Governor of Paranà state, invited us for lunch. In opposition to the national policy, the Government of Paranà tries to segregate GMO from Non-GMO streams.)
During our stay in Brazil, we talked to many scientists, artists, NGOs, media and politicians. We gave an extra-performance for 200 government-officials, and as the media of Parana, television and newspaper, was broadcasting our art-project, there were people passing by to have a look. Many visitors of the Museum Oscar Niemeyer in Curitiba have seen our installation and taken our information-flyer – in all, we had very lively discussions about art, science, politics and the pro and contra of GMO. During Eden no Brazil, we experienced the social discourse on GMO as highly political!
Posted in blog, Brazil |

Comments Off on GMO in Brazil – a highly political issue!