November 16th, 2007 by eden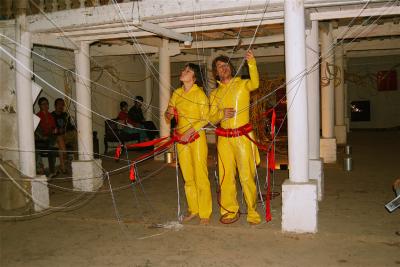 (Fotos: Phuong Vu Manh, Nguyen Ngoc Lam, Mätti Wüthrich ©RegrowingEden)
Unusual for Vietnam, we had a closing event with a final performance in order to complete the installation. Read the rest of the entry to get some explanations and to see more pictures…

First we used the transparent colour slices, that we have used in Switzerland and Brazil already and that for us is associated with the infrared detector from the ELIZA-test (light absorption spectrometer to measure unintended spread of Bt into the soil).
Then we sucked red colour through an empty plastic tube, the colour was flowing like blood through the venes and gave life to a new yellow-red hybrid plant. In the end, a new red plant was growing horizontally and invasively, it spread out of the artspace into the nature, mixing up with the trees.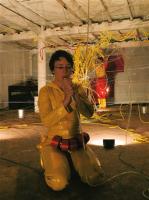 Red with yellow is the colour of the Socialist Republic of Vietnam. The communist regime gives GE high priority, ready to force progress and to catapult GMO into peoples life – we raised the red stripes like a national flag.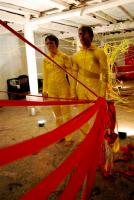 🙂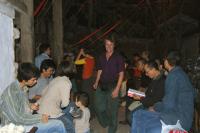 Posted in installation, performance, VIET NAM EDEN, Vietnam |

Comments Off on "Viet Nam Eden": final performance